ASISTA Congratulates Rosie Hidalgo, Newly Confirmed Director of DOJ's Office on Violence Against Women (OVW)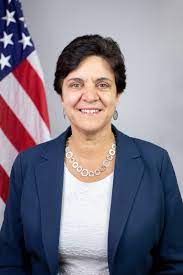 ASISTA is delighted to share that Rosie Hidalgo, a nationally recognized leader and expert on gender-based violence, has been confirmed as the new Director of the Office on Violence Against Women (OVW) at the Department of Justice (DOJ). Rosie's decades of experience and deep expertise will be a tremendous asset to OVW and to the broader field seeking justice for survivors of gender-based violence. Here at ASISTA, we particularly appreciate that Rosie has worked tirelessly over many years to elevate the needs and realities of immigrant survivors in state, local, and national arenas.
Ms. Hidalgo is currently the Senior Advisor on Gender-Based Violence and a Special Assistant to the President at the White House, where she recently led the successful development and launch of the first-ever U.S. National Plan to End Gender-Based Violence.
ASISTA admires Rosie for her inclusive and innovative leadership, and we look forward to working with her in her new role to ensure safety and justice for immigrant survivors.
Heartfelt congratulations, Rosie, from ASISTA!