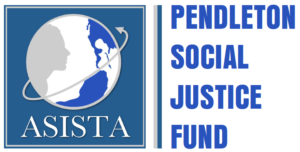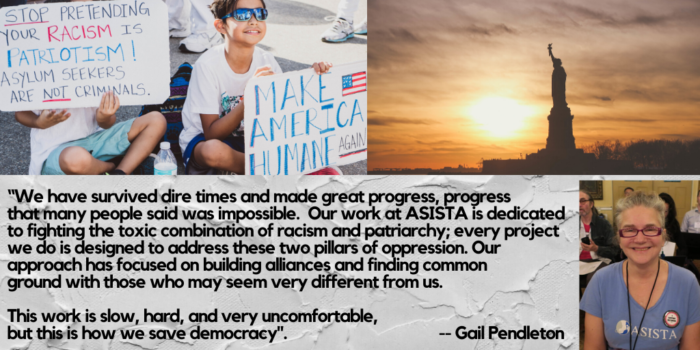 Help us keep ASISTA's unique  approach and leadership strong by supporting the newly launched Pendleton Social Justice Fund (PSJF) in honor of Executive Director Gail Pendleton's work. The fund is designed to ensure ASISTA's ability  to respond swiftly to emerging attacks on survivors and immigrants, employing cutting edge strategies that are otherwise often hard to fund, and building a strong network of advocates across the nation.
Responding and adapting swiftly to the changing political environment is a key feature of ASISTA's success, as is employing an "intersectional" approach that weds womens' rights with immigrants rights: attempting to dismantle the toxic interface of racism & patriarchy.  This fund will help us continue to nimbly deploy different "change" strategies. 
For example, in 2020 we've been 
Sponsoring special calls for members and allies to discuss the challenges they and survivors are facing during the COVID period, identifying and sharing resources and strategies. 

Building on the litigation coordination project begun by Sejal Zota by (1) teaching and encouraging our field to litigate in federal court, (2) assigning litigation newcomers to experienced litigator mentors, and (3) spearheading key litigation that forces DHS transparency and accountability for its policy attacks on survivors.

Teaching and encouraging our field to build collaborations of "unusual" allies at the state and local level.  Enduring local alliances help us mobilize against emerging attacks on survivors, seek advances of immigrant survivors' rights on many levels, and build a progressive federalist bulwark against encroaching Executive authoritarianism.  
For more on our History, Work, and Priorities, click here.
Criteria for Using Pendleton Social Justice Fund
1. Is this a new strategy or project seeking to change systems, policies, laws or practices?
2. Is it not supported by current financial sources?
3. Is it otherwise difficult to secure money quickly to support this strategy/project, if not currently supported?
If the answer is yes to all three, then this is an appropriate use of the funds.
If you would like to make your donation by check, please make payable to: ASISTA, PO Box, 12, Suffield, CT, 06078.  In the memo section, write PSJF donation.