$50,000 Gift Match Announced!
A generous donor has set up a matching gift for the first $50,000 gifts to the Pendleton Social Justice Fund between September 1st until the end of the calendar year 2020! 
"I am profoundly grateful to you for everything you have done to change the way immigrant survivors are treated." ~ Mary Day
"Your vision and on-the-ground diligence has been both an inspiration and gift to those practicing in the immigrant-survivor field. ~Jessica Farb
"Your effects on women and on this country - incalculable. The facists can't get rid of ALL of it, not for good, anyway, because people now know there is another way." ~Virginia Raymond
"I remember attending a training where you were speaking and thinking to myself, If everyone in this work is as passionate as Gail Pendleton, we can seriously change the system and I want to be a part of it and we have." ~ Susanna Saul
"Thousands of cases later, I want to tell you that you gave me, the self confidence, the push,  the courage, to be the advocate for survivors I am today."  ~ Sonia Parras Konrad
"Advocates and clients alike are empowered by your tenacity and compassion." ~ Marina Pineda-Kamariotis
"We recognize that we walk in your footsteps, and there are more of us now, because of the path you lit for us."~ Brigit Alvarez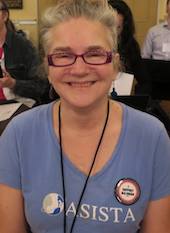 "We have survived dire times and made great progress, progress that many people said was impossible. Our work at ASISTA is dedicated to fighting the toxic combination of racism and patriarchy; every project we do is designed to address these two pillars of oppression. Our approach focuses on building alliances and finding common ground with those who may seem very different from us. This work is slow, hard, and very uncomfortable, but this is how we save democracy." ~ Gail Pendleton
ASISTA is proud to announce the establishment of the Pendleton Social Justice Fund (PSJF) as a tribute to ASISTA Co-Founder Gail Pendleton, and her 40 year career of fierce advocacy for the human rights of immigrants and refugees.
Gifts to the fund will keep ASISTA's unique approach and leadership strong, and provide resources needed to fund projects, to allow for swift responses to harmful practices against immigrant survivors of domestic and sexual violence.
Examples of the important work we are doing:
Leading efforts

to address the impact of COVID-19 on immigrant survivors of domestic and sexual violence by br

inging advocates together,

sharing resources and strategies, and pushing Congress to change its policies to recognize COVID's impact on survivors. 

 
Coordinating a new project that teaches the field to litigate in federal court, pairing litigator newcomers with litigator mentors, and spearheading key litigation that forces government's accountability for its policy attacks on survivors.                                                                     
Building local alliances of "unusual" allies at the state/local level to help mobilize against emerging attacks on survivors and immigrants generally, and build a progressive federalist bulwark against encroaching Executive authoritarianism.
It is critical that you back ASISTA now, during a time when the current administration has waged an unprecedented war against immigrants. Our goal is $250,000, and we can get there with your help.  
Support the Pendleton Social Justice Fund with a gift!  Become an ASISTA champion today. 
Your support will help keep ASISTA strong and nimble, responding and adapting quickly to the changing political environment, and working to fulfill our mission to advance the dignity, rights, and liberty of immigrant survivors of violence.
Criteria for Using the Pendleton Social Justice Fund
1. Is this a new strategy or project seeking to change systems, policies, laws or practices?
2. Is it not supported by current financial sources?
3. Is it otherwise difficult to secure money quickly to support this strategy/project, if not currently supported?
If the answer is yes to all three, then this is an appropriate use of the funds.
For more on ASISTA's History, Work, and Priorities, click here.