 ASISTA's mission is to advance the dignity, rights and liberty of immigrant survivors of violence. 
HERE ARE OUR LATEST UPDATES & ANNOUCEMENTS, STAY CONNECTED WITH ASISTA!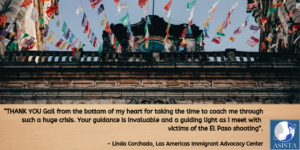 At the request of Las Americas, which is coordinating support for El Paso shooting survivors, ASISTA is helping to bring together mental health, social work, faith-based, local political, and legal…
Late last Friday, Immigration and Customs Enforcement (ICE) released a new fact sheet  outlining when they will grant "stays" of deportation to crime victims who have cooperated with law enforcement…
It is beyond overwhelming to track the myriad ways, large and small, in which DHS' policy is eroding access to critical immigration protections, including those designed to protect immigrant crime…
A BIG thank you for all your help. The quick response most certainly had to do with your intervention. Again, I truly appreciate all you have done.
"A HUGE thank you to ASISTA for helping my U Visa clients who have recently & FINALLY been placed on deferred action status. The cases had been pending since 2012 and after they refused to reopen the cases sua sponte, I sought ASISTA's help and it was well worth it! Thank you!"
Gail's emails are POWERFUL! My client's EAD has arrived - and it's been granted for two years! Thank you all so very much for everything you do, it makes a huge difference! Thank you!!
Frequently Asked Questions