HERE ARE OUR LATEST UPDATES & ANNOUCEMENTS, STAY CONNECTED WITH ASISTA!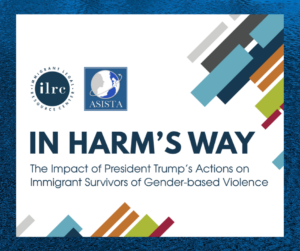 Check out this report from ASISTA and Immigrant Legal Resource Center (ILRC) examining Trump's harmful immigration policies and the impacts they are having on survivors of gender-based violence.
ASISTA argues that DHS regulations prohibiting U visas for after-acquired spouses of crime victims violates the Congressional goals of the U visa law. See Amicus here. 
While we continue to advocate and await further guidance, we have prepared this Practice Pointer, Filing Deadlines for RFEs, NOIDs, NOIRs, and I-290Bs, to assist you in the meeting deadlines…
A BIG thank you for all your help. The quick response most certainly had to do with your intervention. Again, I truly appreciate all you have done.
"A HUGE thank you to ASISTA for helping my U Visa clients who have recently & FINALLY been placed on deferred action status. The cases had been pending since 2012 and after they refused to reopen the cases sua sponte, I sought ASISTA's help and it was well worth it! Thank you!"
Gail's emails are POWERFUL! My client's EAD has arrived - and it's been granted for two years! Thank you all so very much for everything you do, it makes a huge difference! Thank you!!
Frequently Asked Questions