Stop the Abuse. Stop the Fear. Support Immigrants.
Immigrant victims of domestic abuse and sexual assault are exceedingly vulnerable in the U.S. today, often not sure it's even safe to reach out for help. With a new administration upon us, ASISTA is dedicated to ensuring that paths to safety for immigrant survivors of violence are not only safeguarded but improved, as we continue our fight for immigrant victims' rights. When you wear these tops, you are standing proudly with immigrant survivors while also helping ASISTA defend and protect their rights.


Refugee Dilemma Scarf by Polly Webber
Check out this incredible scarf being offered by former Immigration Judge Polly Webber.  The images on the scarf come from three hand-hooked art rugs that she made over the past 3 years to mark her retirement from the bench and her desire to publicize the travesty going on at the southern border. Refugee Dilemma is a triptych of three hand hooked art rugs that tell the story of people fleeing from persecution, getting caught in the "covfefe," or nonsensical immigration hell, and finally achieving a safe haven. It is a tribute to the hundreds of thousands of people who seek refuge from their places of origin annually all over the world.
Polly is offering her scarves at $40 each, plus $7.90 for shipping and insurance, with $10 from the sale going to ASISTA.  Show your support of immigrants' rights while supporting ASISTA.Click here to order your scarf now.  If you have questions or want to buy multiple scarves, email Polly at popster49@gmail.com.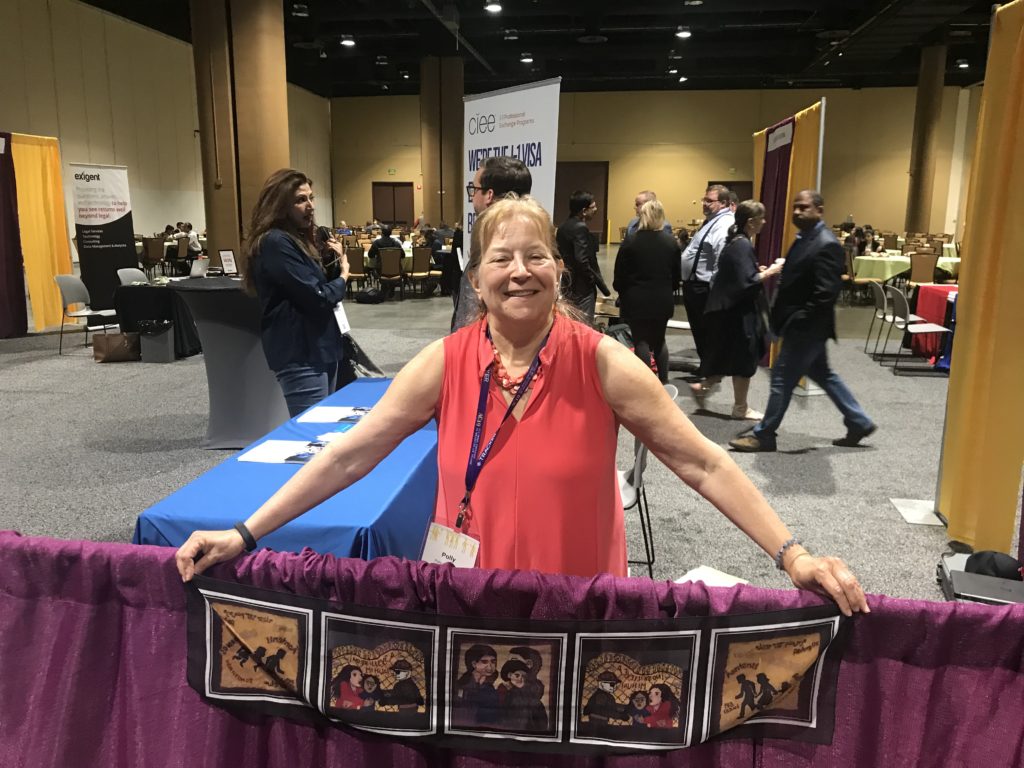 "Immigration reform is necessary in the USA. The Dreamers captured the hearts of most Americans and the taking of the children captured their outrage. It is time to bring this issue forward whatever way possible. This is my contribution". ~ Former Immigration Judge, Polly Webber