Legal Remedies for Immigrant Survivors: Introductory Seminar Series – Part III: Getting Survivors & Their Families to the Finish Line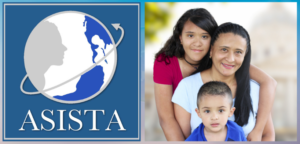 Introductory Seminar Series
Wednesday, September 15th & Thursday, September 16th, 2021
12:00 – 5:00 pm EST
Description: As part of our skills-based introductory seminar series, participants will learn best practices for navigating Consular Processing and Adjustment of Status for VAWA, U visa, and T visa survivors. Through interactive discussions, participants will also learn to spot issues relating to Derivative Beneficiaries and strategies for responding to (and overcoming) Requests for Evidence and Notices of Intent to Deny. Some homework will be required.
This beginner-level course is intended for attorneys and legal staff who are new to representing immigrant survivors or who want to brush up on the basics.
Speakers include ASISTA's national experts.
Day 1, Wednesday, September 15th (12-5pm est)
Session 1: Non-Immigrant and Immigrant Visa Consular Processing for Survivors and Derivatives outside the U.S.
(12-2 pm est)
Session 2: Adjustment of Status to Lawful Permanent Residence for Survivors and Derivatives inside the U.S.
(3-5 pm est)
Day 2 Thursday, September 16th (12-5pm est)
Session 3: All about Derivatives
(12-2 pm est)
Session 4: Overcoming Requests for Evidence (RFE) and Notices of Intent to Deny (NOID)
(3-5 pm est)
Prices for training (4 x 2 hr sessions)
$300 Non-Profit Legal Staff (includes ASISTA members who are non-profits)
$400 ASISTA Member
$550 Private Attorney
CLE: 2.0 hrs of Texas MCLE credits will be applied for each session. Certificates will be available for attorneys to request CLE credits in other states and DOJ accredited representatives.
Questions: contact manager@asistahelp.org
Not an ASISTA member, JOIN NOW