June 29, 2022: Litigating Survivor-based Fee Waiver Denials
Jun 29, 2022 2:00PM—3:00PM
Location
Private webinar
Cost Free for ASISTA Members. $25 for Non-Members
Event Contact Maria Lazzarino | Email
Categories ASISTA Member Webinars, Webinars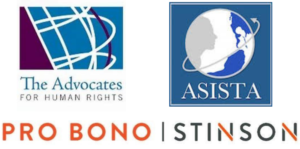 Private Webinar FREE for ASISTA Paid Members
(Non-members must pay the webinar fee to participate or join us)
Litigating Survivor-based Fee Waiver Denials
Wednesday, June 29th from 2-3pm EST
(11am-12pm PST/12-1pm MST/1-2pm CST)
Join ASISTA for a discussion on litigating fee waiver denials in survivor-based cases. This webinar will feature Lindsey Greising from The Advocates for Human Rights and Harvey Reiter from Stinson LLP, who will share how they successfully used the Administrative Procedure Act to challenge USCIS's unlawful denial of a T-visa client's fee waiver request. We will discuss the legal theory behind their suit and share ideas for how other practitioners can replicate their success.
Speakers:
Lindsey Greising, Staff Attorney, The Advocates for Human Rights
Harvey Reiter, Partner, Stinson LLP
Amy Cheung, Senior Legal Counsel, ASISTA (moderator)
Note: Pending for 1 TX MCLE credit hour.
Who can participate in this webinar? ASISTA is offering this webinar FREE for ASISTA paid members. All others may join ASISTA or pay for the webinar individually.
Per-Webinar Cost for non-members: $25
Payment Information: After you register for the webinar, you will be given payment instructions. Please make sure you complete this step to secure your registration. ASISTA Members, please ignore pyament instructions as this webinar is free for members.
Not a member? JOIN NOW! ASISTA membership includes a year's worth of free technical assistance, individual case interventions with USCIS and other DHS agencies, and access to ASISTA webinars!
Please CLICK HERE for membership information
Please contact manager@asistahelp.org with any questions.